CBP Technique in Urbandale
A Quick Summary
The Chiropractic Biophysics Technique in Urbandale is unique to Urbandale or even the Des Moines metro area. It consists of using a very detailed physics analysis of the spine to determine the improper structure or curvature of the spine. Specialized traction machines are then used to reshape the problem area. The goals of this type of care are not only relief of symptoms, but also a correction of the structure of the spine. Typical conditions that are treated include: Back Pain, Neck Pain, Sciatica, Disc Bulges, Scoliosis, Headaches, Migraines, General Posture, and many more.
---
A Detailed Explanation of the Whole Process in Urbandale
Starting with Posture
The first thing we do in our office is a digital posture analysis. It consists of two quick pictures, one from the front and one from the side. The software then gives us a report like you see to the right. This report gives us many different measurements and calculations. We use this posture assessment for three main reasons:
It allows you to see your own posture so you can see it for yourself
We compare this external posture to your x-rays to help identify what is causing certain postures and to make sure that the posture we see on x-ray is verified by what we see externally
At the end of care we re-analyse your posture to see how it has changed.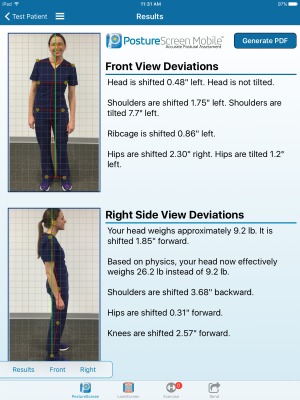 A Thorough Examination and X-rays
After the posture analysis you'll receive a very thorough examination that includes many tests to determine the most likely cause of your pain, but also what other parts of your body are being effected. The many tests include range of motion, muscle strength, vitals, sensation (feeling in your skin), reflexes, full spine orthopedic tests, and palpation of the spine.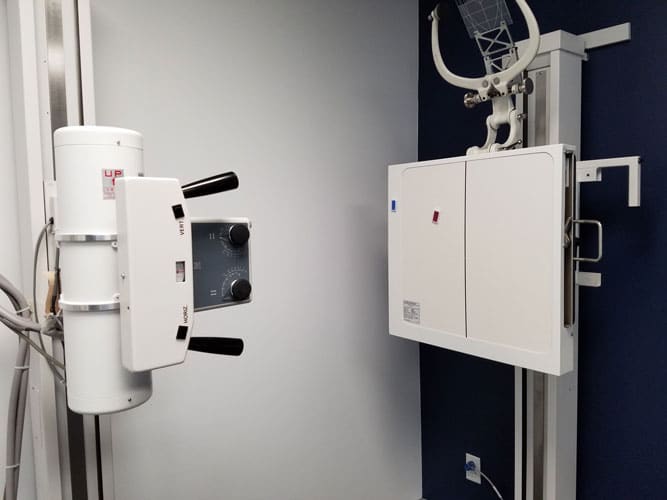 Once the examination is complete the doctor will take x-rays of your spine when needed. These x-rays are done in a unique way that allows us to see what the normal resting posture of your spine is. This is important as many professionals often move you themselves while taking x-rays which does not give you an accurate representation of your normal resting spinal structure or posture.
PostureRay Physics Analysis
Once the doctor has the x-rays they will do a physics analysis of each x-ray (examples to the right). Once the analysis is complete it produces a bunch of measurements for the doctor to study including angles, shifts or translations, global curvatures, and percentages from normal. The pictures are then displayed with red lines showing where your spine is and green lines showing where a normal ideal spine should be.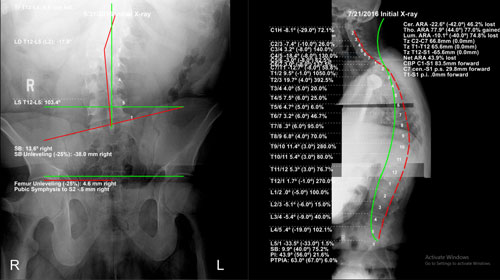 The doctor will go over these lines and measurements with you. That way you know and understand everything that the doctor sees and contributes to your condition. At this time the doctor will also go over the treatment plan and what they expect it to cost.
Spinal Correction Traction
Now that you and the doctor have all the information you need, you can begin care to correct the structure and curvature of your spine. Your care will include 3 important things: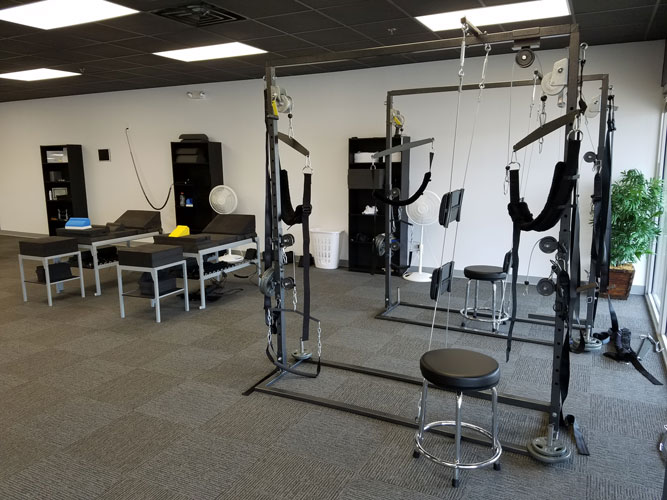 Adjustments - these are gentle manipulations of the spine to break up scar tissue or adhesions in the spinal joints. This often results in pain relief, relaxation, and increased motion in your spine.
Exercises - stretching and strengthening the muscle supporting the spine is important to help improve range of motion and stabilize the spine. Exercise also helps you to warm up your muscles before you do traction.
Traction - using specialized machines (like in the picture) your personalized traction setup will then stretch your spine for 15 mins to correct the curvature of your spine. Since this is completely dependent on your x-ray analysis, every traction is completely unique to your individual spine.
---
BEFORE AND AFTER X-RAYS
Once your care is complete the doctor will retake the x-rays that were previously taken at the beginning of your care. Of course these x-rays will then be analysed with the PostureRay software to give you an accurate comparison to what your spine looked like at the beginning of care.